Dutch version
---
Joseph Martinus Stultiens
1887-1956
Silversmith/metalworker in Toronto, Boston, New York, The Hague
Master craftsman of The Society of Arts & Crafts Boston
---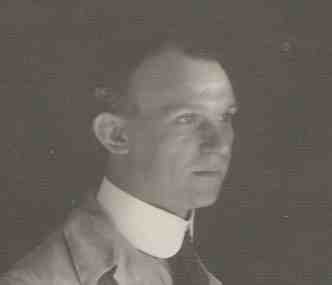 Genealogy:
Parents: Petrus Franciscus Stultiens (1848-?) + Godefrida Teeuwen (1846-1929).
Joseph is the youngest of 13 children. He is born in Weert (The Netherlands) in 1887.
On 8 September 1914 he marries Elizabeth Adele Grobbel (Elsie) in St. Matthias Church, Bellwoods Avenue, Toronto. Elsie was born in Rotterdam (The Netherlands) in 1883. Parents were Johann Joseph [Francis?] Grobbel (ca.1854-?) and Elisabeth Adele Buhlmann (1862-?), both born in Germany. Father Francis was a wine merchant. A stillborn brother of Elsie is registered at the Registry Office of Kralingen (near Rotterdam) on 10-03-1884. The marriage with Elsie ends in a divorce. What has become of Elsie, is unknown.
From approximately 1930 Joseph is back in the Netherlands, The Hague. He marries Josephine Catharine van Batenburg (1883-1971), daughter of Herman Johannes van Batenburg and Hendrika Maria van Baren, on 10 May 1933. Josephine's brother, Christiaan van Batenburg, was prisoner of war in Ceylon in 1902 (Boer War) (1).
1956: Joseph dies in The Hague and is buried at the cemetery Nieuw Eykenduinen in The Hague.
Course of life:
In 1912 he arrives by steamship s/s Victorian in Quebec, Canada and settles in Toronto.
In December 1915 Joseph and Elsie cross the border at Niagara/Buffalo on their way to Boston. There he becomes a member of The Society of Arts and Crafts Boston, which designated him in 1926 as 'master craftsman' because of the high quality of his work. At that moment he lives in New York (4).
The Society of Arts and Crafts Boston was erected in 1887 for the promotion of artistic work based on traditional craftmanship, in reaction to the 19th century industrialization, and still exists as an art gallery for the sale and exposition of art.
Joseph Martinus Stultiens worked in Canada and America as silversmith and metalworker. He made objects of silver and bronze, mostly for churches (goblets, dishes, memorial plates etc.).
His most impressive work, a bronze angel lectern, can still be seen at St. Thomas's Church Toronto (2). It was cast by T.F. McGann & Sons in Boston, transported from Boston to Toronto and placed in the church in 1917.
In the book "Household of God", celebrating the church's one hundred years on Huron Street in Toronto, Stultiens is praised for his designs for the church (3).
Back in The Hague he is more focused on secular objects, such as jewelry.
Drawings and photographs of his designs are kept in the archives of the Society of Arts & Crafts Boston (Boston Public Library).
---

(1) Article about Christiaan van Batenburg (pdf)
(2) Article about Joseph Martinus Stultiens (pdf)
(3) Household of God: a parish history of St. Thomas's Church, Toronto / [general editor: David A. Kent]. - Toronto : St. Thomas's, 1993. Pp. 41, 146, 149, 185.
(4) Letter Society of Arts and Crafts (pdf)
E-mail rjtop@xs4all.nl


© R.J. Top 2013